You know how bands that are about 5 years into their careers often release a double album? And you know how those double albums are rarely good all the way through, featuring enough good songs to fill 1 regular album and then a bunch of stuff that is pretty unnecessary? I mean, the good songs are often very, very good; it's just that the not-good songs are very, very forgettable or outright bad. Why do bands feel like they need to put all that on the album and expand the run time to accommodate them? Couldn't they edit it a bit? It's because they personally feel very good about what they've done on all the songs and they have a vision that they all just belong together in one big collection. We've seen it time and time again.
And this creative gluttony is definitely not confined to the musical world. Filmmakers are probably even more prone to this. We often see tent pole genre films ballooning up towards the 3 hour mark just to fit all the plot in. Heck, we've seen a trend for big series to split their final entry into two parts, creating a literal double album of content (and doubling profits for the studios in the process). And that's kind how I felt about my 1st viewing of The Last Jedi. A lot to like, even love! The good things are very, very good, but I could have done without a few of the lesser tracks in favor of a more streamlined approach. Maybe a bit like The White Album, which features some of the best songs The Beatles ever made while also featuring a few that most people don't mind skipping.
That's really my only criticism of this movie and honestly it is fading the more I mull the film over in my mind. This movie is built for discussion. So with that, let's take the deep dive.
SPOILERS BEGIN HERE
---
Background
When Disney bought Lucasfilm, hired JJ Abrams and released The Force Awakens, fans were overjoyed that a new Star Wars film existed that wasn't the prequels! We recognized that it was a glorified remake of A New Hope, but we didn't care all that much because it was wildly entertaining and the casting was a revelation. Still, as the movie sunk further into our brains, many realized that we really wanted the story to advance a bit more and show us some new things, not just play cool covers of the franchise's greatest hits.
Since then, the Star Wars "brass" has hired some great directors to make new Star Wars movies, only to swoop in later and make changes. They "helped" Gareth Edwards (Godzilla) reshoot / retool Rogue One, they hired/fired Josh Trank (Chronicle) for a Boba Fett movie (and canceled it), they hired/fired Lord & Miller (The Lego Movie) for the Han Solo film (bringing in Ron Howard instead) and hired/fired Colin Trevorrow (Jurassic World) for Episode IX (bringing back JJ Abrams instead). It seems that the Lucasfilm brain trust (Kathleen Kennedy specifically) and Disney wanted to have it both ways: visionary and talented young directors who will stick to Lucasfilm's established formulas and story ideas. Some guys couldn't handle that and were summarily dismissed in favor of more known quantities (echoes of Edgar Wright's time on Ant-Man for Marvel Studios). In the midst of swirling industry rumors surrounding these movements, the interwebs were silent about Rian Johnson's work on The Last Jedi, and that was probably a good thing, indicating that everyone was very happy with what he was building. Then, a month before release, Lucasfilm announced that Johnson would soon be creating an adjacent Star Wars trilogy all his own! Clearly they liked what this guy was doing, but what did that mean? It turns out it meant that they wanted someone to push the story forward in very unexpected ways and propel the uncoupling process from the original trilogy forward. Basically it's the opposite of what people thought they were angling for.
Plot
Let's start with the plot of the movie. We pick up right where The Force Awakens left off. After Starkiller Base was destroyed by the resistance, the First Order is in hot pursuit of the small convoy to get revenge and wipe out their forces once and for all. The opening action scene is reminiscent of Rogue One – a real space battle with Poe Dameron leading the charge from some awesome looking bomber ships. It's great.
Rey, meanwhile, was tasked with getting Luke Skywalker back into the action. He's a legendary, superheroic figure that everyone in the resistance believes will win the war for them. Surprise: Luke wants nothing to do with galactic conflict anymore. In fact, he's had it up to here with the Jedi and the Force altogether! This is a fascinating turn for the character that's hard to grapple with at first. Luke, after all, was the pinnacle hero of the original franchise! Once it becomes more clear what caused him to retreat to a hermitage, we're a little more understanding (or at least I am). Luke starts to train Rey in the ways of the Jedi and sees the power that she already possesses.
And then Luke sees that Rey is connected with Kylo through the Force. They are communicating telepathically across space. These scenes are so well done and are truly one of the best things in the movie.
When Rey leaves to confront Kylo, Luke is livid enough to make moves to burn the Force tree and the Jedi texts. And that's when force-ghost Yoda appears and counsels Luke just like old times. Yes, the tree still burns, but Yoda says Rey has what she needs (hint hint).
As all that's happening, the resistance is stuck in a 20mph car chase with the First Order. They can't jump to light speed because that would use up all their fuel and the First Order can track them somehow and follow and blast them. But maybe, just maybe, they could break the tracker on the Star Destroyer and then jump away cleanly! Finn and a new character named Rose take a small ship and jump away to a casino world to attempt to hire a code-breaker to help them get through the Star Destroyer's defenses and…. yeah… it doesn't matter. This whole plot point was vestigial in my mind. And the slow chase seemed like a bit of a plot contrivance. More on that later.
In the meantime, Leia is in a coma after almost getting killed and the vice-admiral Holdo takes over, but Poe doesn't like her choices. Soon he tries to force some action through mutiny. This stuff all seemed like it could have been avoided with a closed-door conversation about the plan of action and Poe's place in it. Clearly Holdo believes that the tracking thing could be the work of a spy rather than advanced tech, so she needs to keep the plan on a need to know basis, but Poe might be one of those people who needs to know! Anyway, Holdo is a good guy and the soundless scene of her light speeding into the First Order Dreadnaught ship was breathtakingly good.
And now the best scene in the movie: the throne room scene. Kylo brings Rey to Snoke and she's tempted to the Dark Side. She resists and then Kylo rises up, kills Snoke and fights his guards side-by-side with Rey. The battle is a visual feast! And Kylo and Rey fighting together! But Kylo still wants Rey to join him as he's now in charge.  Kylo has doubled down on the dark side and is now the Big Bad in the films. Woah.
It is shocking that Snoke was dispatched like this. There was a lot of digital ink spilled over Snoke's origins! Was he Darth Plaugeis? Was he Mace Windu? Was he some animated series character?  Rian Johnson forces us to accept that those things don't matter. Snoke was a big bad guy and now he's dead. This was always about Kylo Ren more than it was about Snoke. Move on, fanboys. Gutsy call by Rian Johnson!
We finish with the big battle on Crait, a beautiful "salt planet" that reminds us of the battle on Hoth in The Empire Strikes Back. The visuals of the white salt with blood red soil underneath were gorgeous. In the end, Skywalker finally appears and Kylo is obsessed with killing him, which allows the rebels to escape out the back door with Rey's help. The twist, of course, is that Luke isn't really there. He's projecting from his island, creating a diversion and saying farewell to Leia. The exertion of projecting takes its toll and Luke finally fades out, alone but content that the story and the cause doesn't depend on him.
So the rebel forces are severely reduced in number, but Leia says they have everything they need to continue the fight.
And then the coda, where were circle back to some random slave kids from the casino planet playing with home made Luke Skywalker action figures and recounting the legends. When the boy is sent out to sweep the barn, he casually pulls the broom to his hand with the Force and gazes up at the stars, brandishing the handle like a lightsaber. I love it.
Characters
One of the best aspects of The Force Awakens was the casting. All the new core characters were extremely well cast, full of crackling gravitas on screen. They were young, diverse and compelling. While that film went to great lengths to give the old guard of Han and Leia some screen time, it was the newcomers that truly stole the show.
In The Last Jedi, Luke returns to action and is given a great arc. There were many who wondered if Mark Hamill had simply been out of the game too long. After the original trilogy, Hamill pivoted to doing a lot of voice over work and dutifully participated in the convention circuit. When he got the call to come back for some new movies, he didn't have too much going on that would prevent him from rejoining the rebellion. But could he still act on screen? The answer is a resounding "YES"! Hamill is great in this as the wounded and reclusive Luke Skywalker.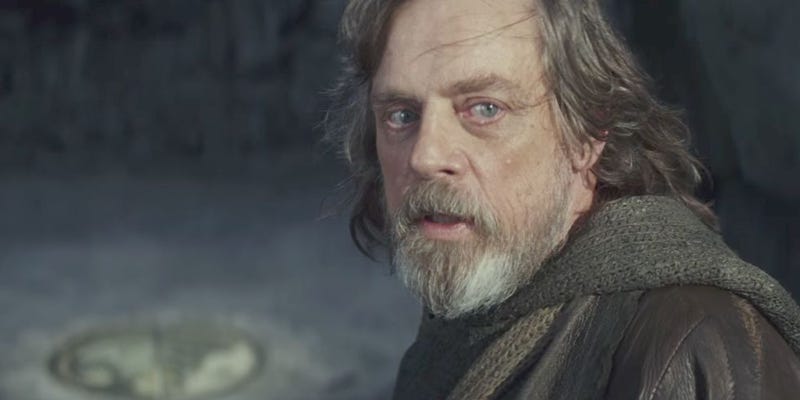 Leia is also great in this movie. Carrie Fisher's final performance of the character is funny, nuanced and earnest. Space Mary Poppins scene aside , she was a stabilizing and tough presence for the resistance band.
Rey and Kylo are the heart and soul of this film. Their scenes are so, so good. Their chemistry is undeniable and their characters complement each other so well. It's revealed that Rey's parents were nobodies, drunks who sold her for booze money. Kylo is really Ben Solo, from the most famous force-using family in the galaxy! They are opposite ends of the spectrum in every sense, which makes them a really great conflict to watch.
Finn and Rose, umm, they didn't really have much to do. I like their characters for the most part, but it just seemed like the plot didn't do them enough justice. I thought Finn really should have died on Crait, sacrificing himself for the rebels and finally growing up enough to no flee from his fears. Instead, he's saved to maybe wander around in the next film too. Still, I love John Boyega, I just wish the writers gave him an interesting plotline!
Poe Dameron too just seemed a bit frustrating from time to time. I get that he's hotheaded and impulsive ("Let's go blow stuff up!"), but his foolish zeal wore thin after awhile. Hasn't he been at this long enough that he knows it's not always about blasting things from his X-wing?
Likes
So there were so many things I liked. As other have said, this is clearly the best looking Star Wars movie yet. Rian Johnson knows how to use color and style to craft a memorable canvas for his story. The deep red colors of the throne room and Crait were a welcome addition to the standard Star Wars color palette.
The characters, as I said, were great – especially Kylo, Rey and Luke.
The movie was a lot jokier that I thought it would be. Sometimes it was jarring how goofy and physical the humor was, but it helped lighten what would otherwise have been a very heavy movie.
The space action … oh man the space action. So good.
I also liked the direction they took the story. So much of the current "backlash" seems to be centered on the way they spun Star Wars in a different direction than many expected. I love that and I think it made the themes of the movie a lot deeper.
Dislikes
The entire Finn and Rose mission to Canto Bight was a tough detour during the movie. They went to hire a rogue codebreaker, got caught, found a second rate codebreaker instead, freed some abused animals, got betrayed by the codebreaker and none of it mattered in the end at all. Sure, they were the ones who encountered the slave kids who show up in the end. So was that whole plan just to set up that coda? Was the Force handing them failure to set up a greater victory?
Or, more likely, was it to explore another corner of the galaxy far, far away and point out that "the 1%" exist there too. These people are profiting from the Star Wars, dealing weapons and supplies to both sides and living in luxury as a result. A little heavy handed political commentary, but oblique enough to not be too annoying. Still, this plot thread made the movie 30 minutes longer than it needed to be in my opinion.
Also, I'm still not sold on Admiral Leia surviving in the vacuum of space and then flying back into the ship and surviving. I appreciate that she's a force user and that's great. I just thought that scene came off as very corny to me.
Themes
There were a lot of big themes in this movie that I thought were pretty profound.
The first theme is how failures can often teach us more than successes can. Yoda is the one who points this out to Luke.
"The greatest teacher, failure is." Yoda to Luke
We see failures happening all over the place and the characters having to deal with the fallout from them. Finn and Rose's mission fails. Hux fails hilariously and all the time. Poe's ideas are shouted down and he fails as well. And of course Luke's failure with Ben Solo is what sent him spiraling into isolation and set the whole new trilogy in motion.
Not to mention the difficult realization that the entire original trilogy ended with a glorious victory on Endor that ultimately failed to make a lasting difference in the galaxy! Han and Leia's marriage failed. Leia's new Republic failed.
Failures have huge consequences that can end up negative or positive in the end. In this case, trusting the Force is what really matters, something that can be a great allegory for God.
In fact, the version of the Force that we see here is much more like the God of the Bible than other entries in the canon. The Force is a character here, not just a mysterious energy field that can be manipulated. It's not tied to a bloodline, it chooses people regardless of their race or station – much like God in the New Testament spreads his covenant promises to all races and not just the family of Abraham! Rey is a nobody, says Kylo, who doesn't have a place in this story. Still, the Force has called to her and gifted her with great power and strength that she didn't earn. And in the end, the Force is doing it again with a nobody slave kid on Canto Bight. The people aren't the story, they aren't the ones winning these fights. Luke's arc ends with him and his friends realizing that he isn't actually the superhero that will win the war with his mere presence. For Luke, that's a freeing thing and he passes on, secure in the idea that his legacy lives on because the Force lives on.
And finally the idea of the "balance of the Force" makes more sense than ever. When Anakin appears way back in The Phantom Menace, the Jedi all wonder if he's the chosen one who will bring balance to the Force (whatever that means). In reality, his fall to the Dark Side tips the balance far away from the light. Perhaps the Jedi had been strong for so long that the balance that was needed was actually a correction to the Dark? Then Luke rises up to challenge Vader and the Emperor. Then Snoke and Kylo take power and Rey rises up as Kylo's reciprocal. The Force itself is willing a balance into existence when it is required! It's a complicated, uncomfortable picture of what the Force is really all about. I kind of love it.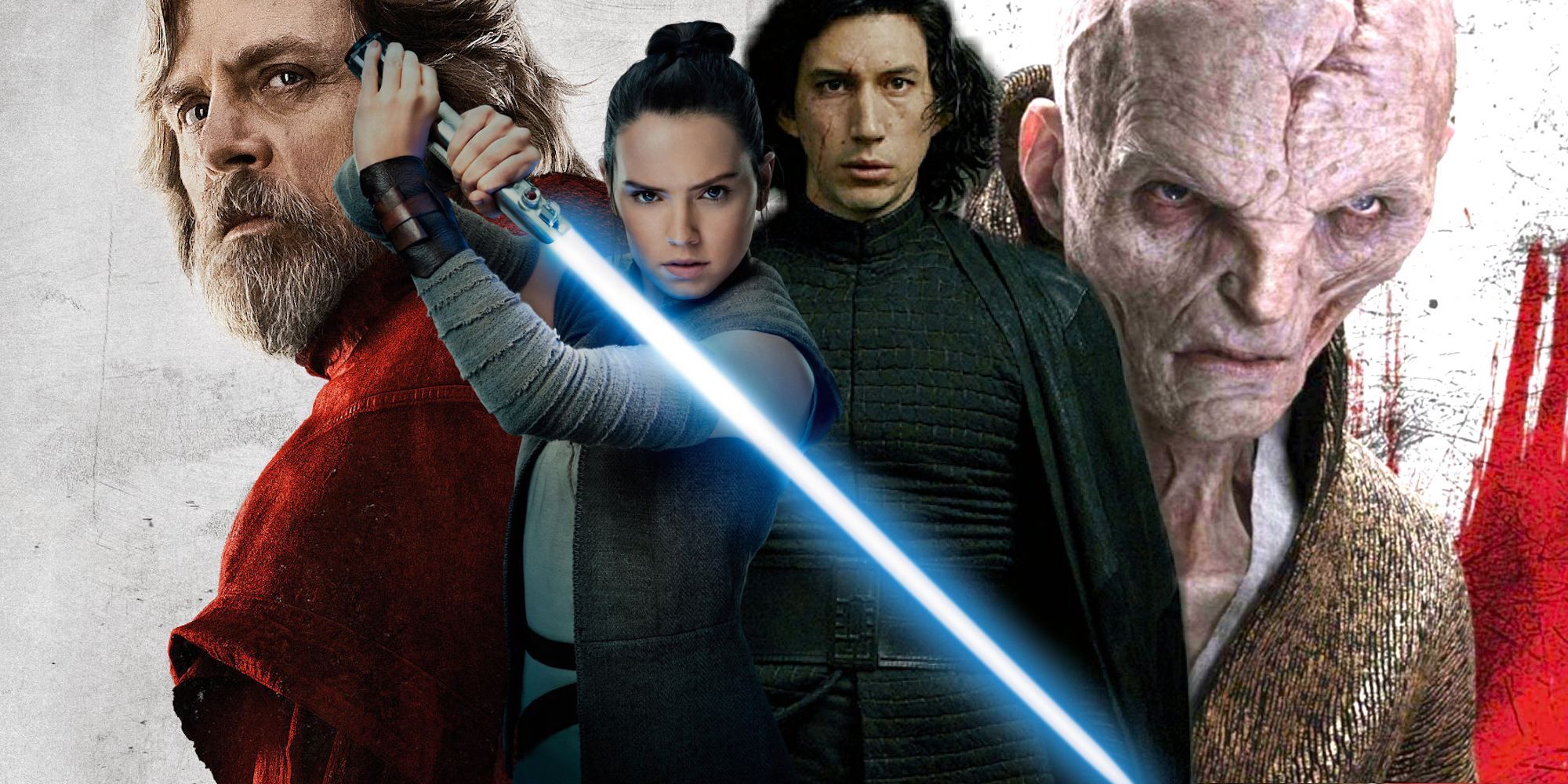 The theme of hope has always been very important in Star Wars. There is hope when the odds are stacked against our heroes. There is hope for fallen characters to return to the light. In The Last Jedi, hope isn't a person (Luke, Rey, Leia, etc) but an actual faith that good will survive and ultimately win over evil. Maybe not today, but eventually. When Finn's kamikaze attempt is thwarted by Rose, she delivers a powerful line:
"That's how we're gonna win, not fighting what we hate, but saving what we love." – Rose Tico
Masterful. The resistance is back to being a rebellion and is reduced to a force small enough to fit on the Millennium Falcon, but they have faith that they will win because they will continue to prioritize saving those they love over killing those they hate. That's also what Vice Admiral Holdo was arguing to Poe in the 2nd act. She wanted to get the people to safety rather than risk everyone's lives by mounting a desperate attack with little hope of victory. And that's where Rey and Kylo differ in their philosophies as well.
"Let the past die. Kill it, if you have to. That's the only way to become what you are meant to be." – Kylo Ren
Kylo hates his past because it hurt him, so he wants desperately to kill his father, his mentor, his new master. He wants to remake the universe in his own pained image. Rey wants to seek the wisdom of her elders but isn't afraid to point out their flaws as she strives for peace. She wants to save Kylo because she does have compassion for him, her enemy.
"You have heard that it was said, 'You shall love your neighbor and hate your enemy.' But I say to you, 'Love your enemies and pray for those who persecute you, so that you may be sons of your Father who is in heaven. For he makes the sun rise on the evil and on the good, and sends rain on the just and on the unjust." – Jesus in Matthew 44:43-45
As the rebels say in the end, their light will become a spark that will become a fire that will burn evil to the ground.
Conclusion
The Last Jedi is an overly-long, complicated movie with big ideas and a beautiful subtext on the difference between light and darkness. It widens the horizons of the franchise in great ways, daring to imagine that the Force is even more mysterious than we all thought and that the story is bigger than the characters we love. The story is bigger than the characters we love. 
I'm very curious to see where the franchise goes from here and I'm very pleased that they have adjusted course away from the "play the hits" franchise reboot. I think this is a movie that will actually improve with repeated viewings, which is a very rare thing for blockbusters these days.
Thanks for the great movie, Rian.