Another Super Bowl has come and gone, but this one was brought to you with no roman numerals! Crazy. Here are a few random thoughts on this year's big game.
The Game
I watched most of the game, but it was in a large house with a large number of small children making lots of noise. After a while, it just became a dull hum in the background. It's fun watching the game with my sons though, even if they can only pay attention for about 5 minutes at a time. They both seemed to care very much about who won though. Our family decided early on that we were pulling for the Broncos and for Peyton Manning to go out on top. So every time the Broncos did something good or the boys noticed the score, they cheered loudly for "their" team.
Like many people going into the game, I thought the Panthers were the favorites to win. Their recent, lopsided playoff victories (in addition to their near-undefeated regular season) seemed to suggest they would overpower the Broncos and their small-scale offense. BUT, the same arguments were made two and a half weeks ago when the Broncos were getting set to play the Patriots. In that game, the Broncos came out with a surprisingly pass-centered offense to start the game and got on the scoreboard early. From there, their amazing defense went to work holding down their opponent and won the game. So I figured that if the Broncos could score first and get a 7-0 or 10-0 lead, the game was theirs. However, if the Panthers went up 10-0 or 14-0, Newton and company would hoist the trophy.
In the opening quarter, I saw the Broncos following their side of the script perfectly. The offense got a lead and the defense went to work making Cam Newton's life miserable. It was a defensive struggle punctuated by fumbles, INTs and pass rushes. And, of course, in the end – Defense Wins Championships.
Peyton Manning morphed into the role of offensive caretaker quarterback and just kept the offense from making too many mistakes once they had the lead. Many, including Peter King of MMQB, thought that the most valuable offensive player was the Broncos punter! But Peyton won his 2nd Super Bowl, tying him with his brother Eli, who was so very happy about it.
When Peyton won, he was quickly interviewed and said that he wasn't thinking about retirement yet, he just wanted to kiss his wife and kids and drink Budweiser. Two things about this. First, before he kissed his wife and kids he kissed… Papa John!?
And second, does Peyton have an endorsement deal with Budweiser? They say "no", but the truth is that Peyton owns some Budweiser distribution business. Oh and also, NFL commish Roger Goodell has banned players from directly promoting alcohol. So maybe this was a parting shot at the much-maligned commish from a retiring player? Or maybe Peyton just really likes boring macrobrew.
Also, why did Peyton receive a defective SB cap?!
What about the losing QB Cam Newton? Cam had a fantastic season. An MVP season. But when it came to the big game, he got handled by a fired up defense. They were chasing him all game long and forcing him into making some major mistakes (including a strip sack TD early). By the end, Cam seemed to have given up, opting not to dive for his fumble that basically sealed the game when Denver recovered it instead.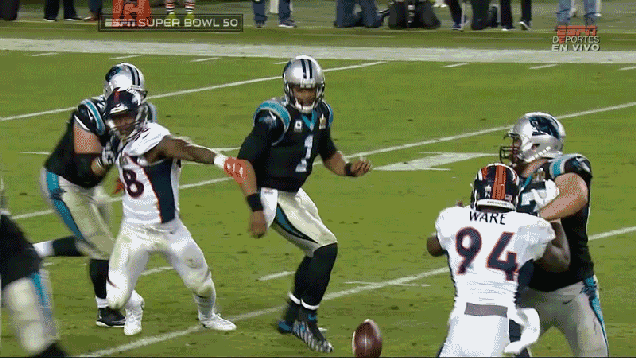 And post-game, he sat down for the required press conference and had very little to say before walking out.
Part of the walk out was probably due to the fact that he could clearly hear Denver players being interviewed and talking about how they had beaten Cam and forced him to all sorts of errors. That's tough to listen to, but it's part of losing and losing is part of the game.
My LVP of the game was Denver's Talib, who incurred a bunch of violent and dumb personal fouls. Goodell is pushing a new rule where 2 personal fouls would trigger an automatic ejection. Talib would have been sent off early in this one. Dumb. Also…
But as the Panther's Greg Olson said, "We picked a really bad day to kind of have a meltdown."
Good game overall, though. I like seeing the defense be the talk of the game for once!
The Halftime Show
First of all, I really don't like Lady Gaga, but she did  a pretty good job with the National Anthem. She's got a good voice, why does she need all the other trappings?
I do like Coldplay, just not their more recent work. My dream playlist was mostly ignored in favor of other tunes, which is fine. They opened with their biggest recent hit and went from there into the single from their latest album. Still, the performance wasn't very arresting. Chris Martin's most memorable lyrics these days are apparently "oh oh ooohhh oh ooohh".
Then Coldplay had a halftime of their own while Bruno Mars and Beyonce came out and actually got some real energy going. I remember when Bruno Mars headlined the show a few years back and I was actually surprised at how good he was. Again, he was great here. And Beyonce is good, but being the father of two young boys it was hard to feel good about all the scantily clad women and the suggestive dancing.
Coldplay returned from their halftime to join B&B for a mashup thing before everyone got lovey dovey with a remix of sorts of "Fix You" that felt like "We Are The World" or something. And maybe a same-sex marriage statement at the end?
So it was a mostly forgettable halftime show for me.
The Commercials
Some decent ones. I think that SB commercials that get the most reaction are the ones that are so weird that we love/hate them. You had the Doritos baby.
You had the Mountian Dew PuppyMonkeyBaby. I mean, it hits all the Super Bowl Commercial requirements!
I didn't like the Prius series at all. Blah. And we're cheering for bank robbers / car thieves?!?
My favorites were the movie trailers.
Jason Bourne.
Captain America: Civil War.
And X-Men: Apocalypse.
But maybe my favorite of all was Ant-Man vs. The Hulk.
Your Thoughts?